The 45th International Symposium Actual Tasks on Agricultural Engineering was held on 21st-24th February 2017 in Grand Hotel Adriatic Opatija, Republic of Croatia. The principle Organiser, Agricultural Engineering Department, Faculty of Agriculture, University of Zagreb was supported by the following frameworks: Department of Agricultural Engineering, Faculty of Agriculture, University J.J. Strossmayer, Osijek; Department of Bio-systems Engineering, Faculty of Agriculture and Life-sciences, University of Maribor (Slovenia); Agricultural Institute of Slovenia; Institute of Agricultural Engineering Bucharest and Croatian Agricultural Engineering Society. In addition, CIGR, EurAgEng, AAAE and ASABE bestowed their support and endorsement on the Event.
This year 92 participants from 14 countries attended the Symposium. It consisted of an Opening Session and six Topic Sessions covering all the broad subject-areas that fall under the scope of Agricultural Engineering. At the Opening Session Prof. Dr. Daniele De Wrachien, past President of the EurAgEng and former Member of the CIGR Executive Board, in his speech highlighted briefly the main historical steps of the symposium emphasizing its significant role as a gathering event for scientists, engineers and dealers from south-east European countries and brought the greetings of EurAgEng and CIGR. Prof. Dr. Istvan Szabo, CASEE representative, made a brief explanation of mentioned conference and ATAE executive intention of founding AgEng section within CASEE conference. He also expressed wish of future successful cooperation between CASEE and ATAE. The Convenor, Doc. Dr. Sc. Igor Kovacev and Prof. Dr. Silvio Kosutic ended the Opening Session with the greetings of the Faculty of Agriculture, University of Zagreb, and Croatian Society of Agricultural Engineering to the audience.
A number of lectures followed, among which are worth mentioning: Classical and quantum water droplets dynamics challenges and opportunities presented by Prof. Dr. Daniele De Wrachien from Italy, The influence of biological preparation and organic fertiliser on soil temperature, EC and CO2 given by Dr. Zita Kriauciuniene from Lithuania, The influence of biological preparations on physical soil properties and tillage fuel consumption presented by Prof. Dr. Egidijus Sarauskis from Lithuania, The relationship between apparent soil EC and particle size distribution of light textured soils featured by Prof. Dr. Algirdas Jasinskas from Lithuania, Precision grassland farming - state of the art and future research topics presented by Prof. Dr. Andreas Gronauer from Austria, Navigation and personal protection in automatic feeding systems delivered by Matthias Reger from Germany, Different soil tillage and ecological footprint in rape production delivered by Prof. Dr. Denis Stajnko from Slovenia, Yield of corn grain by sowing in twin rows with MATERMACC-2 planter delivered by MSc Ana Banaj from Croatia, Coordinate controlled placement of sugar beet seeds presented by Prof. Dr. Peter Schulze Lammers from Germany, Endurance test methodology and assessment of common rail fuel supply system wear while using bioethanol fuels presented by Keio Küüt from Estonia, Testing the adjustable drum belt sorter for blueberry size sorting presented by Kaarel Soots from Estonia, The use of ozone in combination with electrochemical treatment for the remediation of organic polluted soils delivered by PhD Irina Istrate from Romania, Field and laboratory wear testing of integral seedbed implement's chisel tines point delivered by Mihai Gabriel Matache from Romania, Decreasing pollutants emission of stoves with high energy storage capacity presented by Mart Hovi from Estonia, Carbon footprint of electricity from biogas with steam explosion pre-treatment delivered by Iris Kral from Austria, Options for the introduction of new biogas technology on family farms delivered by Dr. ing. Viktor Jejcic from Slovenia, Sustainability of biogas production and utilisation - Case studies presented by MSc Miodrag Viskovic from Serbia, Corn cob pellets as a fuel in Serbia presented by Djordje Djatkov from Serbia, Calculating greenhouse gas mitigation from the utilization of biogas for combined heat and power production delivered by Omar Hijazi from (Syria)-Germany, Biosystems engineering techniques for habitats restoration in protected areas presented by Prof. Dr. Pietro Picuno from Italy, The possibilities and limitations to the agronomists employment: attitudes of students of University of Zagreb, Faculty of Agriculture presented by Doc. Dr. Sc. Magdalena Zrakic from Croatia. This year meeting of CIGR WG Rural Development and Preservation of Cultural Heritage was organized during symposium and group staff has had excursion that include three family farms who dealing with: 1. Agro-tourism, 2. Cattle production and 3. Wine production.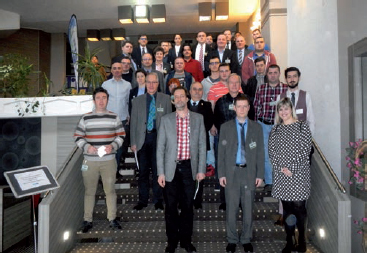 In the Topic Sessions, each starting with a review report, 70 papers were discussed, in oral presentation. At the Closing Session, the Convenor emphasised the role of EurAgEng and CIGR in the ecologically sustainable development of agriculture and in the preservation of the rural cultural heritage within the East-European countries. Participants were given electronic copies of the Proceedings consisting in volume of 663 pages, containing 70 papers all peer reviewed. Papers from the Proceedings have been indexed in Thomson Reuters (The Conference Proceedings Citation Index, part of Web of Science® database) since 1997.
Maziva Zagreb d.d. - INA group (national petrol company) presented its results of field testing latest palette of synthetic and bio-degradable oils in presentation Field testing and comparison of INA motor oils in Case Magnum and John Deere tractors delivered by BSc Eng. Tonca Caleta Prolic.
Downloadable electronic version of proceedings of the 45th Symposium is available at symposium's web site http://atae.agr.hr/proceedings.htm starting on 30th of March 2017. Information regarding the 46th Symposium in the year 2018 will soon be available at the web site http://atae.agr.hr